We live and breathe Exmoor National Park !
And know that millions of people, like us, love this special place. Our online shop can help bring Exmoor to your home – whether you're looking for something to remind you of Exmoor from afar or to equip yourself to explore more. Many of our products are unique to us, whilst we also stock several firm favourites. We will be adding new lines so do visit us again soon, or come and see us in person and meet the Exmoor experts at one of our National Park Centres.

Every purchase helps to keep Exmoor special. You can also join others that love Exmoor by donating to CareMoor for Exmoor to support vital conservation and access projects across the National Park.

Our National Park Centres steeped in history and ready to help you
Lynmouth Centre
A modern centre for all the family with interactive displays, a film theatre showing a range of short films about Exmoor, hands-on activities for children and amazing views across the Bristol Channel. Café and temporary exhibitions upstairs.
Contact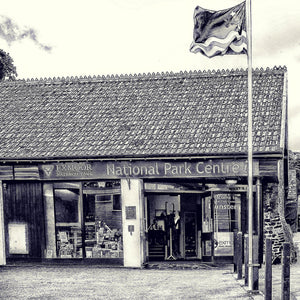 Dunster Centre
Our centre sits at the edge of the beautiful medieval village of Dunster. You will find interactive exhibits, a video microscope and displays introducing you to the special habitats that can be found on Exmoor. Visit the exhibition room and audio-visual theatre.
Contact
Dulverton Centre
Located in the heart of the town, our centre is home to a wide range of National Park information, including woodland and archaeological themed displays. Adjacent to the Dulverton Heritage Centre with local exhibits and exhibitions changing regularly.
Contact