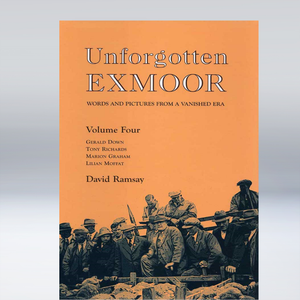 Aware that the reservoir of early Exmoor memories was fast disappearing, David started recording contrasting life stories in 2007.
What often emerged in these were details of a past more distant than the life-span of the people being interviewed.  Many could recall hearing stories from grandparents, first-hand descriptions of everyday life going as far back as the mid 1800's, long before they themselves were born.  Indeed for some the reach of living memory could go back further still, with accounts handed down through the generations and told to David as the culmination of a truly wonderful oral tradition, confirming that all history was such until written down.  This could still occur - just - in parts of Exmoor where families had remained in the same small area for many generations and could tap deeply into the past of their own small community as well as drawing on the dwindling folk-memory of the larger area. 
In these books each life story is accompanied by old photographs, almost none of which have been seen before in public.  Most were taken by rich visitors to the area and sent back to local families as mementoes, as a thank-you-very-much in shades of grey.  Now all these years later they are startlingly atmospheric, evocative.  With the spoken word they vividly bring the past to life, portraying a vanished era in great detail; the fleeting past is captured, made real, celebrated. Hopefully 'unforgotten.'  
Each volume is complete in itself - perfect books for anyone who loves Exmoor!